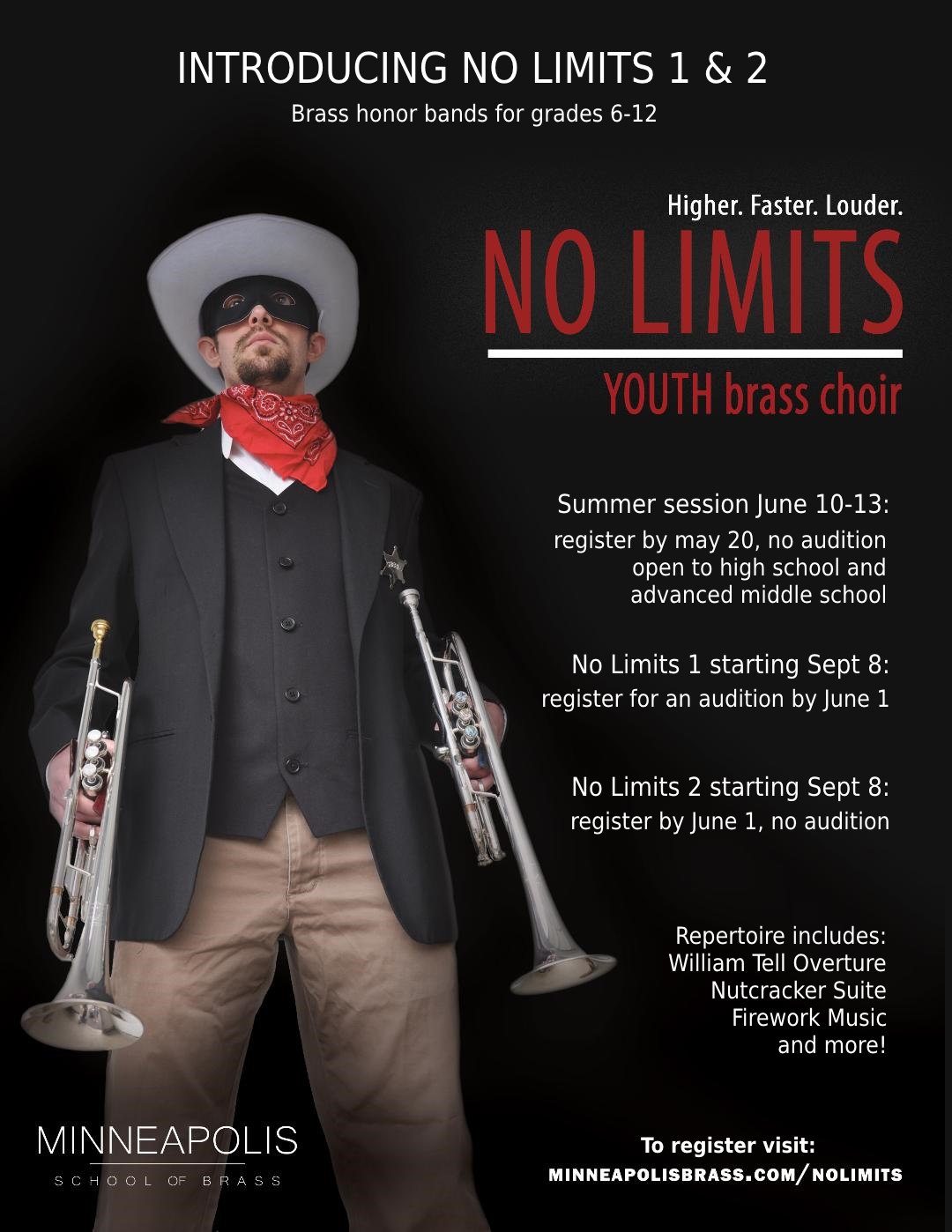 No Limits Youth Brass Choir is an all brass ensemble comprised of Trumpets, Horns, Trombones, Euphoniums, and Tubas. No Limits now offers two levels of ensembles: No Limits 1, a select auditioned ensemble of 8 trumpets, 4 horns, 3 trombones, euphonium, and 1-3 tubas and No Limits 2, a non-auditioned ensemble with more flexible instrumentation. Past repertoire for No Limits 1 has included Beethoven Symphony No. 5, Pictures at an Exhibition, William Tell Overture, 1812 Overture, Tchaikovsky's Romeo and Juliet, Bizet's Carmen, Egmont Overture, and many other great orchestral works. This season No Limits 1 will be performing Tchaikovsky's Nutcracker Suite, Rossini's William Tell Overture, Listz's Les Preludes, and has received permission to perform director Ben Parke's transcription of Appalachian Spring. No Limits 2 will be performing a variety of holiday favorites along with portion of Eine Kleine Nachtmusik, Bizet's Carmen, and Holst's St Paul's Suite.
No Limits 1 rehearses Sunday evenings 5-6:30pm at Wooddale Lutheran 4003 Wooddale Ave S in St Louis Park. No Limits 2 rehearses Sunday afternoon 4-4:45pm also at Wooddale Lutheran.
No Limits 1 has one opening remaining for trombone. Auditions should be submitted by August 26th. For more information fill out the registration form and contact director Ben Parke immediately.
No Limits 2 will continue to accept new members until the end of September. Our next new member join date will be January. No audition is required. Register below to become a member of No Limits 2. No Limits 2 members should have command of a 2 octave chromatic scale and be familiar with concert keys Bb, Eb, Ab, F, and C major. Tuition for the season is $375 and partial scholarships are available on an as-needed basis.
Next concert: December 2019 - joint concert No Limits 1 and 2
To register: Sign up here
For more information: contact
No Limits concert Livestream (please note audio quality for part 2 is much better than part 1: